TCD Contact List
Updated 4 days ago

Need more specific information? 
Know the department you need? 
We've got you covered...
100% customer satisfaction is our top priority!
We Love to Help our Customers
The Cabin Depot™ is passionate about providing excellent customer service. Although well-known for our friendly, honest and knowledgable team - even the best of us need help from time to time 😉 Help us, help you 😎 
Before requesting technical support, please use the checklist below to help expedite any potential warranty claims that may arise. Our support team can provide troubleshooting steps, tips and tricks along with providing assistance to file a claim.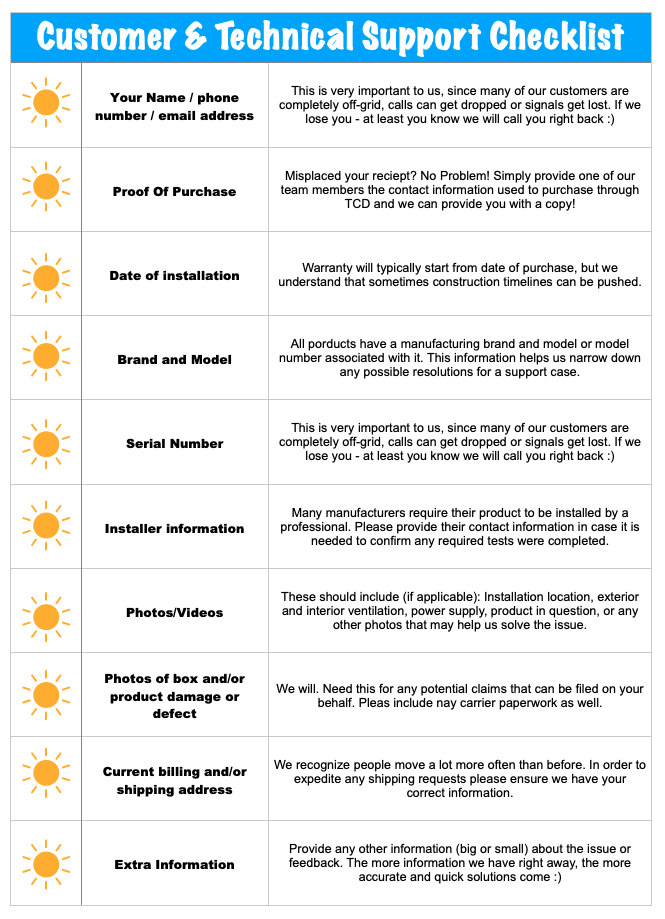 Feel free to send ALL warranty claims to [email protected] to have step-by-step instructions to submit a claim. 
*All merchandise is subject to the manufactures warranty and will be repaired or replaced per the manufacture's directions. The Cabin Depot™ is a retail business and does not employ installers. However, we are very happy to assist customers having issues by reaching out to the manufacturer on the customer's behalf if needed to help expedite the troubleshooting or warranty process.
Was this article helpful?